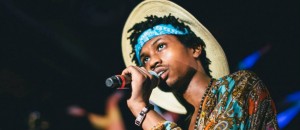 "Atlanta native Raury, and 2015 XXL Freshman made a impact on this year 2nd-Annual Raurfest the festival was full of surprises, and double the artists, sponsors and fun.
"Raury was the headliner with features by some of the dopest independent artists of today,  fellow Atlanta native Key, Post Malone, Big K.R.I.T., Marian Mereba, Trinidad Jame$, Two-9, India Shawn, Keith Ape, 6lack, D.R.A.M.SZA, JMSN all did performances of their most popular hits.
A very unexpected appearance by Andre' 3000 who raury is often compared too if he keeps growing in his craft that may very well be possible one day. Andre appearance shocked the fans an added a great element of surprise to the star studded night.
"Raury shared his views an thoughts of the importance of giving back and having good health, there was a clothing drive  being  held which raury ask fans to bring used clothes to donate to "Atlanta's homeless population. The 2015 XXL Freshman sent out a message via social media, asking fans to join him, the morning of the festival, for a 9 a.m. hike at Stone Mountain.
If you miss raurys more performance you can get more familiar and check out few of his past videos below you can catch him again at this year Afropunk  festival in Brooklyn, NY
August 21-23, 2015! – QueenxJHoney